Affiliate Disclosure: This post contains affiliate links. As I am part of the eBay Partner Network and other affiliate programs, if you follow these links and make a purchase, I will receive a commission. Likewise, as an Amazon Associate I earn from qualifying purchases.
Numbered sports cards are those with a print run that is stamped or etched (as a serial number) on the front or back. These numbers can run as small as one, as is the case with a 1/1 card, or upwards into the thousands. Generally, though, numbered cards fall within the 1-500 range, including /1, /5, /25, /50, /75, /99, and so on.
Numbered Cards Values
In terms of value, numbered cards are generally more valuable than their base card counterparts. That is, if you had a Julio Rodriguez rookie card – a 2019 Bowman Chrome Prospects base card – it would be worth less than that same card as a refractor /499. Reason being, base cards have "astronomical" and seemingly unlimited print runs, while numbered cards are printed in smaller quantities.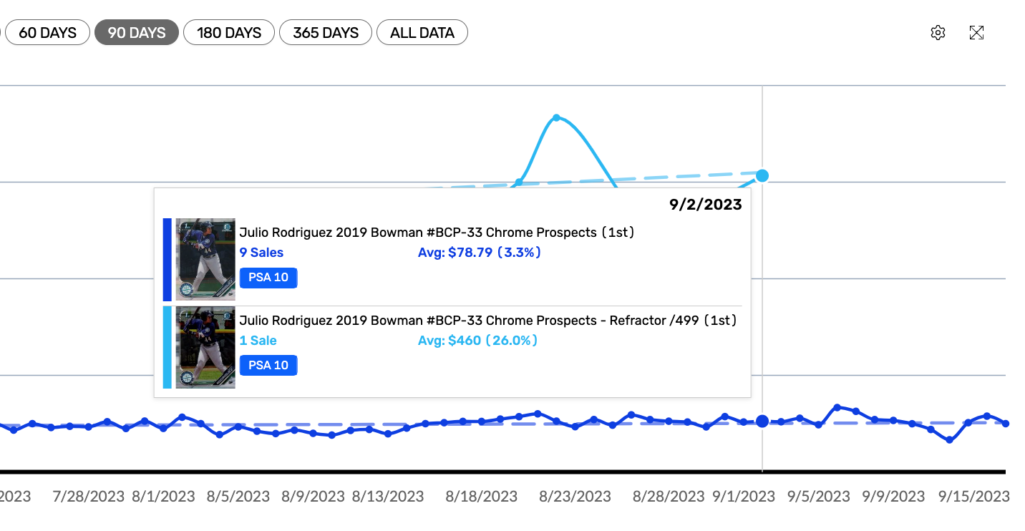 All things considered (and we will get into this more below), numbered cards aren't all that rare anymore when you consider how many of them are on a particular checklist. As a result, you'll see low-numbered cards from big sets like Topps flagship or Prizm only sell for a couple of bucks depending on the player.
And that's the kicker–the player. As you can see with the Julio Rodriguez example above, even a card /499 which isn't all that scarce by numbered card standards can be worth a ton because of the player (and the type of card being a rookie or rookie related).
Types of Numbered Cards
As mentioned, numbered cards usually follow a pattern in annual sets like Topps flagship. While things might change a little bit year to year, this is what you can expect for numbered cards from Topps flagship each release.
Here is an example from 2023 Topps Series 2:
Gold – /2023 (for the year they're printed)
Blue Foil – /999 (retail only)
Purple Foil – /799 (retail only)
Green Rainbow Foil – /499
Advanced Stats – /300
Orange Rainbow Foil – /299
Red Rainbow Foil – /199
Vintage Stock – /99
Independence Day – /76
Black – /72 (increases by one each year)
Father's Day Powder Blue – /50
Mother's Day Hot Pink – /50
Memorial Day Camo – /25
Clear – /10 (hobby only)
Platinum – 1/1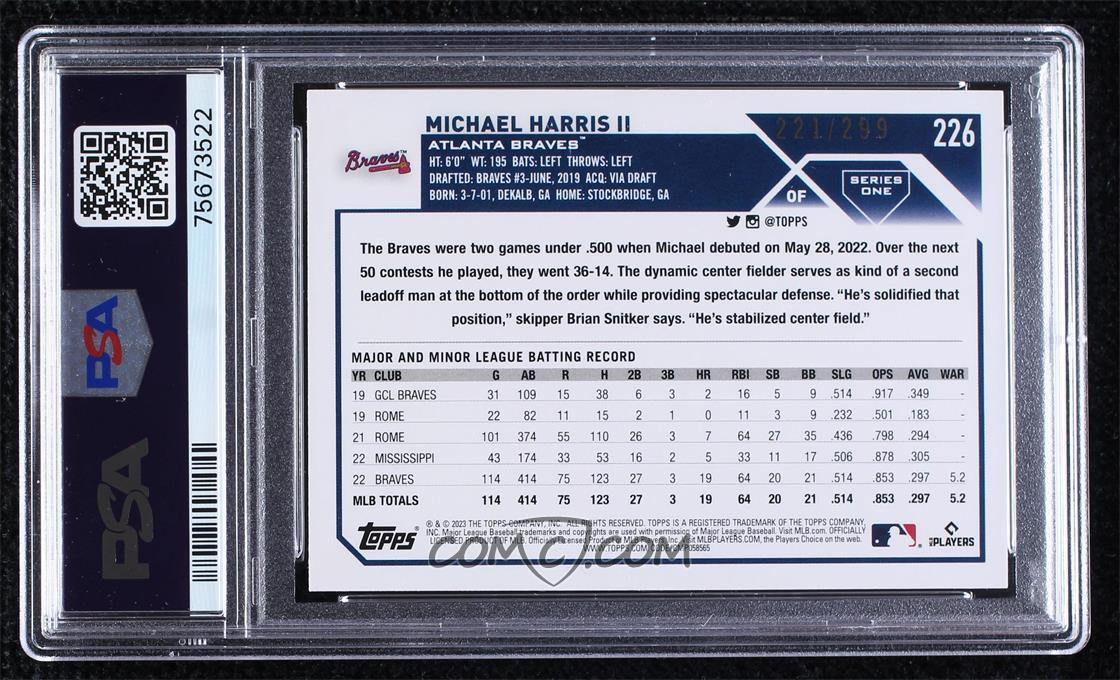 See the /299 to the left of the card number on the back of the card (226) near the top right.
Same thing with Topps Chrome—there is a pattern of numbered cards (and their corresponding colors that usually cary over year to year, and even across different products (Bowman included). Meaning, the top chase cards from 2023 Bowman Chrome are legendary retrofractors, yes, but also those that are numbered and in different refractor color parallel form.
Magenta Refractors – /399
Magenta Speckle Refractors – /350
Purple Speckle Refractors – /299
Sonar Purple Refractors – /275
Purple Refractors – /250
Aqua Refractors – /199
Aqua Lava Refractors – /199
Blue Refractors – /150
Sonar Blue Refractors – /125
Green Refractors – /99
Green Wave Refractors – /99
Sonar Green Refractors – /99
Blue Wave Refractors – /75
Gold Refractors – /50
Gold Wave Refractors – /50
Orange Refractors – /25
Orange Wave Refractors – /25
Red Refractors – /5
Red Wave Refractors – /5
Superfractors – 1/1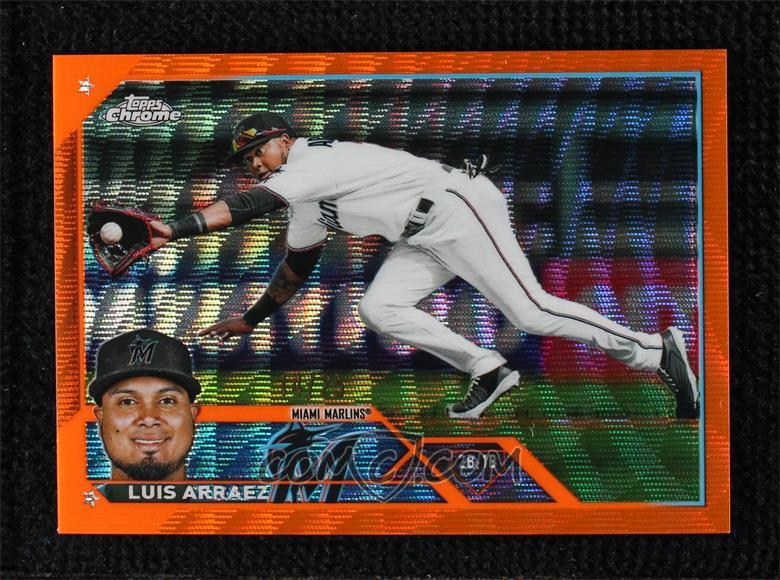 Where to Find Numbered Cards
While we talk about Topps flagship and chrome baseball above, numbered cards are essentially in every product, including different brands, sports, and even non-sports. They have become a common piece of every release, which some love, and others wish there was more control/scarcity.
In fact, in some higher-end releases, numbered cards are treated like the throw away instead of the star. Meaning, some products might cost hundreds if not thousands of dollars for one pack of 10 cards, and in those cards there might be 8 "hits" and two numbered cards (the "hits" of course being the cards everyone is interested in).
Number Placement & Printing
When looking for numbered cards, most are going to be obvious some do fly under the radar. As you can see with the chrome examples above, the number is usually going to be on the front of the card. But again, this is just one product, and it is really going to vary from one product. tothe next.
You can also see that on Chrome, the serial numbers are etched into the card, where on paper products, you might see the serial number printed. Again, it depends! Topps Heritage cards and some others have handwritten numbers.
Best I can do (without covering each release) is to give you a few examples of where to look among the best football cards, hottest rookie cards, and other popular products.
Topps Flagship Baseball: back of card
Topps Chrome Baseball: front of card
Topps Heritage: front of the card
Panini Prizm Football: back of the card
Panini Prizm Basketball: back of the card
Panini Donruss Football: front of the card
Panini Optic Football: back of the card
While it's nearly impossible to find a pattern, one general way to think about it (though not perfect) is that with Topps products, chromium finish cards will be numbered on the front and paper products on the back. WIth Panini though, it's flipped—chromium cards will be numbered on the back while paper products are usually numbered on the front.
All in all, numbered cards are a fun part of the hobby, but with it have bumped others, like insert cards, out of the spotlight. Especially as parallels within products keep increasing, the real value in numbered cards will come with those in lower quantities, or those from the late 90s and early 2000s as is the case with rare Ken Griffey Jr. cards or the most valuable Barry Sanders cards.